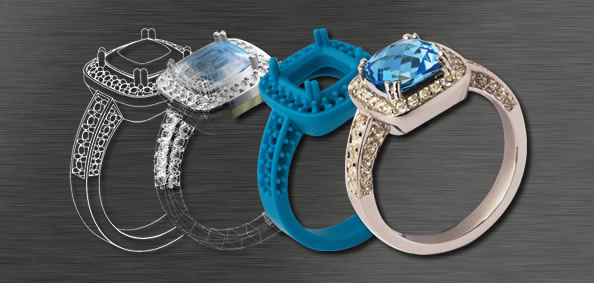 After a quick, easier and more precise way of making jewellery?
Facet RP has all the answers.
Cad (Computer Aided Design) and Cam (Computer Aided Manufacture) is a means of fast prototyping using computer aided design to reproduce metal jewellery and many other items in a quick and cost-effective manner. Pure Casting offer a premium CAD/CAM service, in association with FACET RP, who have an office at the same premise.
Cad/Cam is a state of the art design and manufacturing technology that is helping many compete with the big companies and imported products. Dramatically giving them the edge over their competitors.
Facet-RP can help you move into the twenty first century by saving time and money on your reproductions. Like most jewellers you may be feeling increased pressure to produce your products with reducing time constraints from the big retail chains or experiencing competition from cheaper imported products – Facet-RP can help with this growing need.
Facet RP works with all facets of the jewellery industry from small jeweller to big casters and manufacturers. We also deal with industries that benefit from rapid prototyping such as dentists and toy makers.
Extensive Experience
Facet as a company has been in the jewellery industry for the last 20 years and pioneered Cad Cam into the Australia Jewellery Industry
We have worked with over companies in Australia and New Zealand.
Background
Facet RP began its journey in 1996 as Facet Manufacturing Jewellers. Director Craig Long, a jeweller with over 25 years experience, main role in the company was hand making and pattern master.
Becoming tired and frustrated of continually working late into the night to meet deadlines and maintain a high quality standard, Craig knew there had to be a better way.
With the help of QMI and Qld State development, he researched the best Cad programs and Rapid prototyping systems available in the market to produce jewellery. He found JewelCAD and Solidscape machines to be the front-runners in this technology and still are to this day.
After purchasing the program and machine, Craig travelled to the USA for extensive training. Over the next few years, more machines were purchased and we became the Australasian reseller for both JewelCAD and Solidscape.
Due to the increasing call for precise & quick methods of jewellery production, Craig made the decision in July 2006 to concentrate solely on CAD/Rapid prototyping therefore making Facet RP the clear cut pacesetters of the industry.